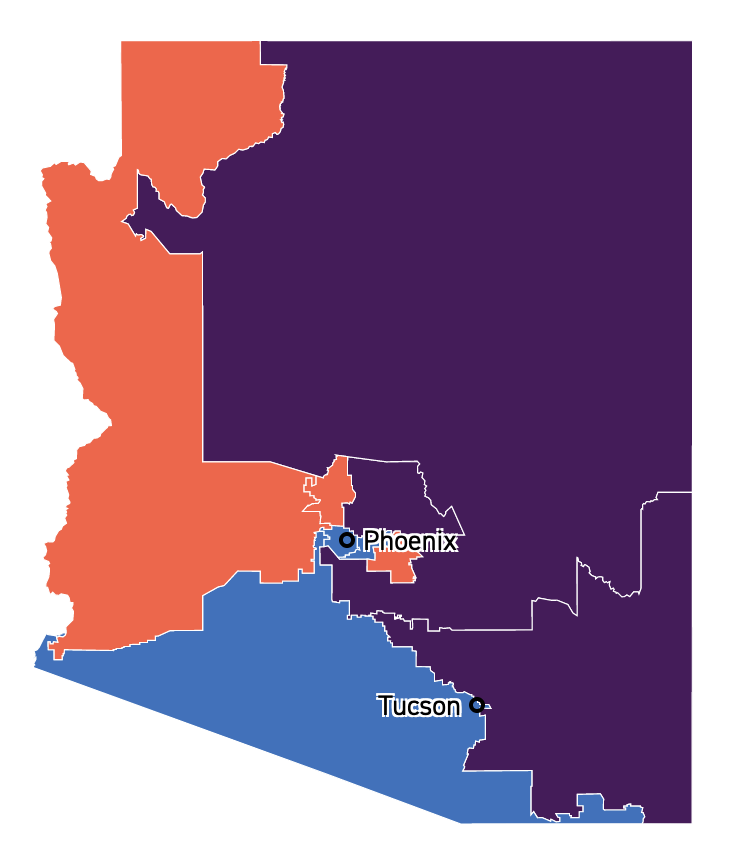 Arizona
Governor
Three key races occurred in our neighboring state to the west, Arizona – the contest for governor, featuring Republican candidate Kari Lake up against Democrat incumbent secretary of state Katie Hobbs for the seat formerly held by Republican Doug Ducey, who is prohibited from running again due to term limits, former astronaut and incumbent Senator Mark Kelly running against Republican Blake Masters, and Democrat Adrian Fontes running for Arizona's secretary of state, in opposition to Republican Mark Finchem.
In the race for governor, Lake, a former TV personality endorsed by former President Donald Trump, had been unclear about whether she will accept the results of this election and has claimed that Trump won the 2020 election. She has called out this election as fraudulent because of voting issues in Maricopa County, saying that there was "incompetency" in the election. She ran on an agenda of "common-sense conservatism," calling for increased security at the U.S.-Mexico border, saying, "After I take my hand off the Bible, we are going to issue a declaration of invasion. Hobbs, the Democratic candidate endorsed by former President Barack Obama is running primarily on the issue of abortion, saying, "[I would] veto unabashedly any further restrictions on access to reproductive health care."
Hobbs edged out Lake by less than 20,000 votes.
Senate
Kelly won a special election following the death of former Arizona Republican senator John McCain. He was previously a U.S. Navy pilot and NASA astronaut. Kelly centered his campaign mainly around economic issues like affordable health care, increasing wages, and protecting Medicare and Social Security. He ran against Republican Blake Masters who hoped to "defeat progressive Democrats and weak and compromised RINOs [Republicans In Name Only]. He has been outspoken on the issue of crime as well as securing the border and reestablishing America's relationship with the rest of the world, saying, "We need to turn this ship around. We need to punish criminals severely." 
Kelly defeated Masters by nearly 6 percent, winning 51.8% to 46.1%.
Secretary of State
Finchem is a former state House representative who won reelection three times and was endorsed by Trump in the past. He led the charge in working to establish the state's election audit in Maricopa Country which found no fraud in the counting of the votes. Fontes hoped his experience as Maricopa County's recorder would sway voters to his side, saying, "[I] revolutionized Arizona's elections by registering half a million new voters, providing direct outreach to traditionally underserved communities, and making voting free, fair, and accessible to all." Fontes called out Finchem's attacks on voting rights, making it harder for Arizonans to make their voices heard, while Finchem has called Fontes "a lawless bad actor, connecting him to conspiracy theorist George Soros and claiming he "bungled" his duties as county recorder.
Fontes beat Finchem by over 6 percent, as was expected.
This article has been updated on 11/14/2022 with new results. This is a developing story. Stay with The Advocate for further updates.