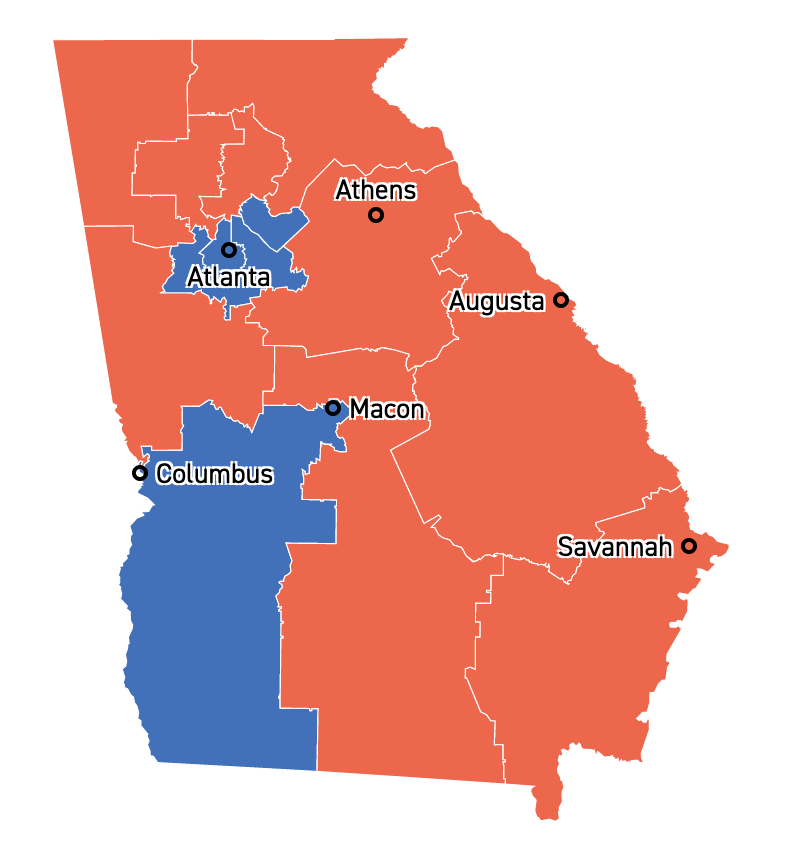 Georgia
Senate
Raphael Warnock and Herschel Walker have gone at each other's throats for months now, as they competed for a senate seat in Georgia. Warnock, a Democrat, is Georgia's incumbent senator. He won his seat in a runoff election against Republican candidate Kelly Loeffler on January 5, 2021. Warnock has been the pastor of Ebenezer Baptist Church in Atlanta since 2005. He is an outspoken abortion rights supporter, has pushed to cap insulin costs at $35 in Georgia, is pro-gun control, and has been an advocate for protecting federal voting rights.
 Walker is a former Georgia star football player and businessman He most recently said in his debate against Warnock that he is against abortions after 6 weeks, but previously stated he is outright against abortion no matter the circumstances or timeframe. Walker also faces multiple scandals in which women have claimed he paid for their abortions after getting them pregnant. Walker has criticized Democrats in office for high gas prices as well as inflation, and vows to fix these issues if elected. He is pro-2nd Amendment and has stated that he opposes federal voting rights protection. 
 In the November 8th election, Warnock received 49.4% of the vote, and Walker received 48.5%. The remaining 2% of the votes went to third party candidate Chase Oliver. Since neither candidate received 50% of the vote, a special runoff election will take place on December 6th. Early voting for the runoff begins on November 28th. 
 The results of the election aren't necessarily surprising; the general consensus on both sides was that this would be a close race. The final decision now essentially lies in the hands of those who voted for Chase Oliver, to now pick between Warnock and Walker. Both candidates will continue campaigning and accepting donations through December 6th. Historically, runoffs in Georgia have favored Republicans, with 7 of the last 11 runoffs going to the GOP.
Governor
Brian Kemp (R) is the current governor of Georgia. He defeated Abrams in the 2018 election by less than 1%. He didn't outwardly criticize or praise Trump, which gave him support from both pro- and anti-Trump republicans. According to his campaign, Kemp was "focused on helping Georgians fight through 40-year high inflation and the recession brought on by the Biden-Abrams agenda." As a small business owner, he has a strong emphasis on strengthening the economy. He fought to keep businesses open during the pandemic throughout his term. He strongly opposes one of the most important issues this election: abortion. He signed a "heartbeat ban" into action during his current term. 
Stacey Abrams (D) served in the Georgia House of Representatives from 2007 to 2017. She is a voting rights activist and founded Fair Fight Action, an organization dedicated to fighting voter suppression and getting new voters to the polls. As governor, she wanted to expand Medicaid and affordable housing, support small businesses, and reduce medical debt, "all without raising taxes," according to her website. She believes that abortion should be available, especially amid economic concerns. 
As expected, Kemp has been reelected for his second term as governor. His generous tax breaks and lax COVID policies during his first term maintained his popularity throughout the state. Despite this loss, Abrams promises to continue to fight for Georgians.