Coolest Academy Classrooms
Which one is your favorite?
Mr. Anderson and Mr. Peknik
Down in the 6/7 campus' science building, Rich Anderson has created a wonderful learning environment for his 7th-grade students. His classroom is filled with posters and paper mache models of animals made by past 7th graders, and Mr. Anderson plans to make more with his students this year. He states that "One of the things I really like is to have all sorts of examples of living things and habitats." He also enjoys the large amount of space available in the room to fill with his current and future students' creations. The models created by his students are his favorite things that decorate the room. One creation he likes, in particular, is the albatross that hangs from the ceiling with over a 12-foot wingspan. These components all make the classroom very inviting and engaging for students.
Art History Classroom
In the art building, the art teachers, including Cory Montoya, who teaches Art History, have given a combined effort to make their room as artsy as possible. The idea of the room is to inspire all the students, so there are numerous paintings hung up as well as sculptures, maps, and color wheels. The way it is built gives the students an idea of what a working art studio would be like and teaches them to be at home in the atmosphere. It is much more realistic than, say, a random room in the science building. "A classroom is really about the community and the relationship between the students and the teachers," Montoya said when asked about her room. Even though it doesn't have any extravagant decorations or cushy couches, it is clear that this room has accomplished its purpose: to be a welcoming and inspiring place for any up-and-coming artists.
Ms. Abbott
In library room 136, Robin Abbot has created a welcoming atmosphere for both the sixth graders and her APUSH students. She loves that her classroom is now in the library because the library is the heart of the campus. In addition to its central location, there's so much space and the cafe is close, which makes her students happy. "I think this is possibly the best view on campus," she said, commenting about the view of the 6/7 Division and the mesa when asked about her favorite of the room's attributes. Abbott has kept the room immaculate: all her supplies are organized in colored boxes, and she has decorated the walls with aesthetically pleasing rainbow orbs. It is clear that Abbott has put a lot of effort into her classroom, and it was worth it.
Ms. Aceves and Ms. Arce's
In McKinnon Hall room 107, Spanish teachers Katherine Arce and Diana Aceves have worked together to create a welcoming and beautifully decorated classroom. They are glad for all the space their room provides and like that the room itself was built as though its original purpose was to host performances. "My favorite part of the room is definitely the colors," Arce said. Arce and Aceves have done a spectacular job decorating their room. Across the ceiling, they have hung flags of different countries, golden streamers are plastered to their walls, and a corner is dedicated to the birthdays of all their students. This room proves that Aceves and Arce are both teachers that care deeply about their students.
Ms. Baca and Ms. Aceves's
Room 117 in McKinnon Hall is easy to miss but could be called a hidden gem. This combination of French and Spanish classrooms is filled with decorations that whisk you away to the romantic streets of France. Samuele Baca and Diana Aceves, who thought a Spanish teacher had to store many of her things in Ms. Baca's classroom, decorated this classroom the way it is to create the illusion of speaking French in France or Spanish in Spain. When asked what she likes most about her classroom, Ms. Baca said, "the goal for the decoration is to get the students to leave English outside, right?" Ms.Baca also says her favorite decoration is the shiny, colorful fans Ms. Aceves put up, as well as the colorful atmosphere of the classroom. The decorations are all very eye-catching, but one of the first things students see is the large, zebra-print, high heel chairs in the front of the room. Considering all of this, it's safe to say that room 117 is one of the coolest classrooms at the Academy.
Leave a Comment
About the Contributor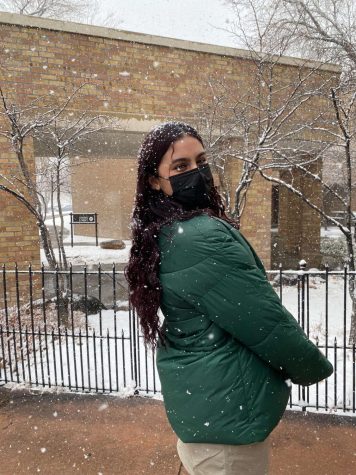 Noor Ali '23, Features Editor
When not making art, browsing Goodreads, or writing for The Advocate, Features Editor Noor Ali '23 is active in SDLC, Model UN, and Albuquerque Academy's...