The 2nd Gubernatorial Debate
The candidates duke it out for the last time before the big day

On Wednesday, October 12, New Mexico Governor Michelle Lujan Grisham faced off with Republican opponent Mark Ronchetti in New Mexico's second gubernatorial debate, this one hosted by KOAT. Lujan Grisham, who was first elected in 2018 after several years representing the Albuquerque area in the House of Representatives, contrasted her career of political experience with that of Ronchetti, a former meteorologist who has never held public office. Ronchetti criticized the governor's policies on a variety of issues, ranging from her pandemic response to her energy and education policies.
In his opening statement, Ronchetti tied the state's high violent crime levels to Lujan Grisham's criminal justice policies, saying that she has released too many inmates over the course of her term to control overcrowding during the COVID-19 pandemic. He also criticized the leadership and general policies of President Joe Biden and the Democrat-controlled state government. Lujan Grisham touched upon the various challenges that the state has faced in the last four years, from the pandemic and subsequent recession to the numerous wildfires that have torn through the state, and talked of her proactive response to help the state get through them, including funding for heavily-impacted groups and laws tackling the climate crisis and expanding health care access. She also discussed the passed pieces of her agenda, pointing to the strength of the economy and investments in early childhood and higher education.
The first topic of the debate was crime, an issue especially relevant in New Mexico, which has one of the highest violent crime rates in the country. Ronchetti characterized Lujan Grisham's crime policies as "catch and release," specifically admonishing her administration for the release of Chris Beltran, a criminal who murdered his girlfriend shortly after his release from prison. Lujan Grisham rebutted by noting that it was a Republican district attorney who refused to prosecute Beltran for gun crimes, which led to his release. Further, she pointed to her record of funding more police departments with equipment and backup officers, especially in Albuquerque. Moreover, she mentioned increased gun control measures, like the firearms-control bill she signed in March, as another way that her administration is cracking down on violent crime.
Turning to abortion, Lujan Grisham said that the only reason, following the overturning of Roe v. Wade, that abortion rights are safe in New Mexico is because of the actions that her administration has taken, including executive orders establishing new abortion clinics in underserved areas. She claimed that Ronchetti would attempt to ban or limit abortion if he was to be elected, citing his previous and fluctuating stances on the issue as evidence that, despite what he supports now (a statewide vote on a constitutional amendment regarding abortion rights), Ronchetti would turn on those views and embrace more radical measures. Lujan Grisham cited a statement by his pastor that said Ronchetti's goal was to "end abortion in New Mexico." She emphasized her belief that women should have the right to choose, and noted that the actions of many Republican-controlled states have severely curtailed women's right to privacy. Ronchetti replied by denying that he wanted to see abortion banned, but claimed that the governor is supportive of abortions up until birth. He outlined his plan to hold a statewide vote on a constitutional amendment surrounding abortion, saying that it would give voters the ability to choose the state's policy on the matter. However, Lujan Grisham shot back at the idea, saying that women have the right to choose in the state today and that there is no reason to put those rights on the line, saying that Ronchetti's proposed vote was counterintuitive and did not actually award women the ability to make their own decisions about obtaining an abortion, as they can today in the state.
On the issue of the U.S.-Mexico border, Ronchetti claimed that the sanctuary state policies of Lujan Grisham and President Joe Biden have led to an influx of narcotics and crime. Ronchetti outlined his plan to send members of the National Guard to the southern border. Lujan Grisham shot back by describing how the National Guard members stationed at the border when she was first elected were "brushing horses and changing [the] oil of ATVs," describing how they are largely unnecessary when positioned there. Instead, she said that her policy of using National Guard members for other means, like drug detection, has been more effective in cracking down on the trafficking of substances like fentanyl.
Next, inflation, specifically how it relates to healthcare costs, took center stage. Ronchetti slammed Lujan Grisham's healthcare affordability policies, which he claimed have made doctors "leave the state in droves," alleging that led to a drop in the quality of healthcare. Lujan Grisham, on the other hand, touted the work that her administration has done to lower costs, including legislation to curb healthcare premiums, and her support of President Biden's recently passed Inflation Reduction Act, which allowed Medicare to negotiate the price of prescription drugs.
After this, the candidates discussed energy issues, with the candidates sparring over the right approach to balance rising costs while combating the climate crisis. Ronchetti pointed to the governor's policies as the catalyst behind rising gas prices, accusing them of targeting the local industry, while the governor pushed back, saying that the state has sustained its oil and gas industry under her administration, while simultaneously passing legislation to lower emissions and lead the nation in renewable energy.
Towards the end of the debate, Ronchetti and Lujan Grisham were both afforded the opportunity to ask the other candidate a question. Ronchetti asked Lujan Grisham about an allegation of sexual misconduct by a former staffer, which led to a hefty settlement late last year. Lujan Grisham painted the allegations as false, and as a stain on her character and integrity. When it came time for the governor to question Ronchetti, she asked him if he could identify Misoprostol, a medication sometimes used for abortion. Ronchetti was reluctant, accusing the governor of "playing Jeopardy", while the governor used the non-answer as evidence for his intentions to curtail the right to choose.
In their closing statements, the candidates re-affirmed their main points, doubling down on their campaign's defining themes. Ronchetti once again pinned the governor to elevated violent crime levels, saying that New Mexicans should reject a governor who "continually releases people back out to the street," while scrutinizing the state's education system. Lujan Grisham said that her administration has "delivered on taxes [and] investments in the classroom and education," specifically pointing to a raise in teacher pay that was passed earlier this year. To finish, she warned voters of Ronchetti's intentions to curb abortion rights, saying that voters should not vote for a candidate who wants to "interfere with private healthcare decisions." All in all, the final debate was a contentious exchange of two substantially different visions for the Land of Enchantment, just weeks from election day, November 8.
View Comments (2)
About the Contributor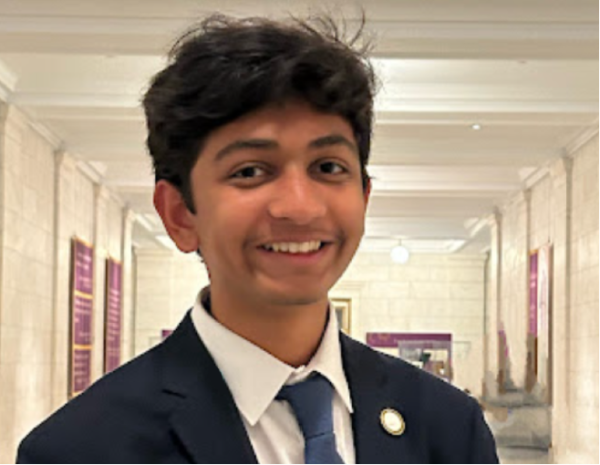 Abhishek Narahari '24, News Co-Editor
Abhishek is a deeply engaged member of the Albuquerque Academy community, part of several government and politics-focused clubs and activities. For the...