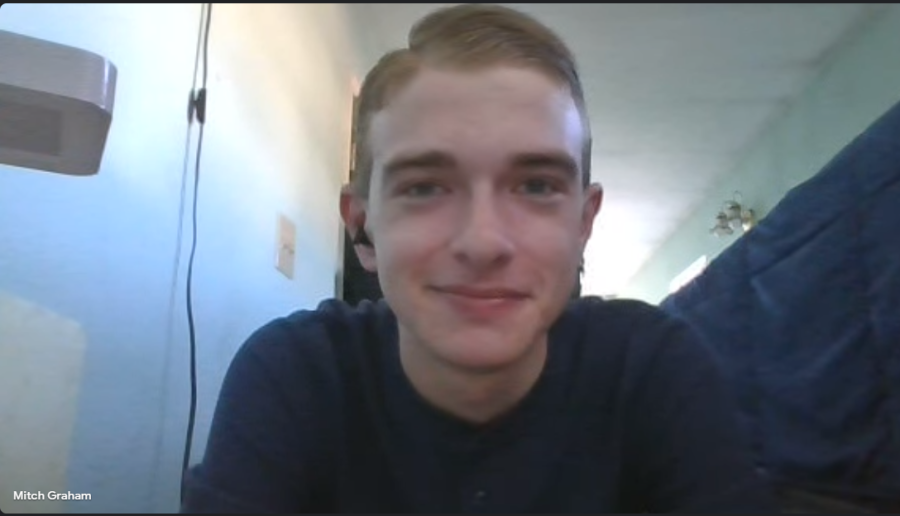 A Series of Fortunate Accidents
Mitch Graham, a student at CNM pursuing a degree in Political Science and Government, who can solve a Rubik's cube in 45 seconds and says Capital One made "a bad decision" by giving him a credit card, describes his life as "a series of fortunate accidents." Yet, these seemingly random occurrences, from joining Highland High School's DECA chapter to leading the Mayor's Youth Advisory Council for a year, propelled him to his "clear vision of a career path" in public service he's set for himself today. And, as we can all relate to, Mitch says, "[It's] a little scary, because if it goes wrong, I don't have a backup plan."
His passion for public service began during his time as a member of Highland's Navy Junior Reserve Officer Training Corps (JROTC), seizing the "opportunity to be in charge of something." Mitch rose through the ranks to become the supply officer, the third-highest ranking officer in the group who is responsible for issuing uniforms and insignia. Additionally, he was an on-again-off-again part of the Navy JROTC's marksmanship team. He credits the disciplined environment the program provided for getting him through high school. 
During high school, Mitch was scrolling through the city's website when he happened upon the application for Albuquerque's Mayor's Youth Advisory Council and got in unexpectedly. He describes his time there so far as "an interesting exercise in patience" but enjoys the opportunity to learn about "various problems in the city and the world at large and how to solve them." 
He took advantage of these chances for leadership to meet his goal of going into politics, now eyeing a run for Albuquerque City Council and possibly mayor in 2025. While he doesn't have any "innovative policy ideas," he's been vocal on the issue of homelessness on the Mayor's Youth Advisory Council and cites that as Albuquerque's top issue. 
Joking about his eventual legacy, Mitch said, "I want to be famous enough to have my name put on a building. Granted, it could be called 'Mitch Graham's Portable Toilets.'" Asked about his greatest accomplishment so far, he whistled and said, "I haven't done anything that has any sort of potential impact," but definitely seems on the path to have one in the near future. 
I wouldn't be surprised if Mitch got his name on a building either.