Reynolds Regatta Recap
The eighth annual Reynolds Regatta kicked off on Friday, September 23, 2022, better known as Community Day. Every advisory from sixth through twelfth grade is eligible to participate by submitting a boat. Each boat must be made solely of duct tape and cardboard (nothing else!), and hold two students. The students must row their boat from one end of the pool and back again.
The Regatta was established in Honor of Lou Reynolds (formerly Lou Vigil). Reynolds was a longtime Spanish teacher and principal at the lower school for over 30 years. After her retirement, she moved to South Korea, continuing to teach Spanish. After seeing a Regatta in Korea, Reynolds inspired Cathy Lydon to create the Reynolds Regatta in her honor. According to Ms. Lydon, "The Regatta's growth has been from the grassroots. More and more students have become interested in the event, with more and more boats being built year after year."
This is the 8th annual Reynolds Regatta, with one year being missed due to COVID. But, coming back strong, school spirit this year was even louder than years prior This Regatta was the largest ever, with 63 advisories participating. This is a significant increase from 40 boats last year. This also led to heats being split up. Some students were at lunch while others were racing, unlike last year where all students were in the Natatorium together.
The influx of boats made organizing the race a struggle, however, because there are only 16 lanes and two pools in the Natatorium. Getting boats in and taking wet boats out without damaging flooring were major problems for the planners.
In the 8-9 division, advisories worked together to build boats. The upper schoolers, some of whom didn't have advisories quite yet, still built boats. And some adults, teachers and alumni, also wanted to it, so they built boats as well. Additionally, the Engineering and Science Olympiad clubs put out boats this year. One of the the most notable creations in the 8-9 division this year was the Boat from the Waples Advisory: bright pink with a duck head.
My advisory, the Corbin Advisory, also participated in the boat race, helping build and row a boat that won its heat. The building process was straightforward, but the biggest challenge we faced was a lack of time. We didn't have enough time to put a second layer of tape onto our boat, which resulted in early leaks. The racing of the boats was also interesting, with some boats in our heat taking off early due to misinterpretation of whistles.
When asked about the construction of their boats many students replied in kind: "We just had a lot less time to make our boats this year," said one 8-9 student.
Mr. Hovey Corbin, who has taught at the Academy for over twenty years, said that the annual boat race was "a great display of school spirit." This sentiment was echoed by many students, with one commenting that it "really showed how great the Academy is."
Leave a Comment
About the Contributor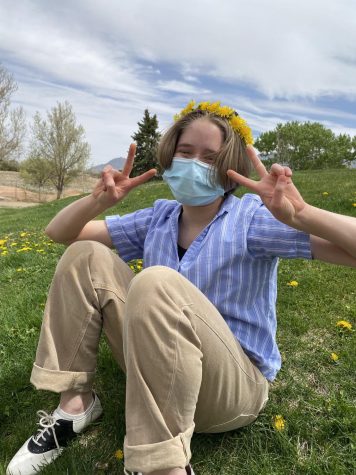 Haley Pedersen '25, Graphics Editor
Haley '25 is the Advocate's Graphic Art Editor. Their overall artist career sprouted at a young age from their various dragon sketches and drawings,...