Recap: January 6th Summer Hearings
An overview of what was revealed over the summer
The events of January 6, 2021 stunned our country and the world.
Trump was impeached for "incitement of insurrection," the first time an American president has been impeached twice. Much of what happened that day is being uncovered by the House Select Committee to Investigate the January 6th Attack on the United States Capitol, chaired by Rep. Bennie Thompson (D-MS), created at the request of House Speaker Nancy Pelosi. The committee is made up of nine members of the House, two of whom are Republicans. Its stated goals are to "report upon the facts, circumstances, and causes [of Jan. 6]" by "examining and evaluating evidence," and to "build upon the investigations of other entities [of Jan. 6]."
Over the summer, the select committee held its first set of public hearings showcasing their behind-the-scenes work for the first time.
First Hearing
They began by laying out Trump's 7-part plan to overturn the 2020 election and stating that "Donald Trump was at the center of this conspiracy." The first hearing featured Capitol Police officer Caroline Edwards, who was injured trying to protect the building, recalling how she was "slipping in people's blood," and went on to call the breach "carnage." Filmmaker Nick Quested, at the Capitol documenting the Proud Boys, a white nationalist group, turned over much of his footage to the select committee and noted that the group had begun advancing on the Capitol before Trump's rally, evidence this was a planned affair. Other evidence unveiled included Trump saying that those chanting to hang Pence if he did not object to the certification "have the right idea," and also showed footage of Trump's then-attorney general William Barr saying that the election was not stolen and there were no instances of fraud.
"
I was slipping in people's blood…"
— Capitol Police Officer Caroline Edwards, testimony to the January 6 Select Committee
Second Hearing
In its second televised hearing, the select committee detailed the narrative of a drunk Rudy Giuliani, former New York City mayor and Trump's personal attorney, lamenting over the results of the election, saying, "We need to go say that we won." Those in Trump's orbit cautioned him against declaring victory in the middle of the vote counting, but Trump resisted and told them he was planning "a different direction." Later, his televised speech denounced the election as fraudulent, and he said, "Frankly, we did win this election." Additionally, the select committee showed how the president's son-in-law, Jared Kushner, called Fox News' owner Rupert Murdoch after the network projected that Biden won in the state, the tipping point for his victory.
"
Frankly, we did win this election."
— Former President Donald Trump, televised speech, Nov. 4, 2020
Third Hearing
The third hearing dealt with how Trump pressured Pence to overturn the certification, although doing so was not in his constitutional authority. Eastman seems to have known so since he asked to be pardoned by Trump for his role. The plan was created by Trump and lawyer John Eastman, and the select committee chronicled Pence on that day, stating that he had gotten a phone call from Trump calling him a "wimp." Further, a witness before the committee testified that a constitutional crisis would have occurred had Pence not stood his ground. The select committee also showed video of Pence hiding from the president's supporters.
Fourth Hearing
The committee's fourth hearing showed how Trump pressured state election officials not to certify their own truthful results and instead create "fake electors"—submitting the false certifications of 7 states—that Pence would've used to sway the certification of the election results in Trump's favor on January 6. Testimony came from local election officials that tried to stand up to Trump's plan, most notably Rusty Bowers, speaker of Arizona's House of Representatives, who said that going along with the former president's wishes would force him to break his oath to the Constitution, and Shaye Moss, an election worker in Georgia whose family was personally attacked by Giuliani because Moss allegedly had a flash drive containing votes that she then took out of the polling facility. Moss, however, testified that a ginger mint was in her hand, not a flash drive. Brad Raffensperger, secretary of state in Georgia recounted threats he received after he denied Trump's request via phone call to find 11,780 votes to flip the state.
Fifth Hearing
The next installment probed Trump's effort to work with the Department of Justice (DOJ) to investigate cases of voter fraud, highlighting his request to the Department of Homeland Security (DHS), with him saying, "Why don't you guys just seize machines," and at one point telling Justice officials to "say the election is corrupt and leave the rest to me." When personnel at the DHS and DOJ refused to comply, Trump tried to appoint Jeffrey Clark as attorney general, leading to threats of resignations from the DOJ that ultimately caused Trump to reverse course. He also explored the possibility of appointing a conspiracy theorist as a special counsel to investigate fraud.
"
Say the election was corrupt and leave the rest to me."
— Former President Donald Trump, evidence revealed by the January 6th Select Committee
Cassidy Hutchinson, aide to former chief of staff of Trump Mark Meadows, was in the hot seat during the sixth hearing of the select committee. She detailed searing testimony that included that Trump knew some of his protesters were armed. This came about after he told security officials overseeing his rally to let in those with weapons in order to enlarge the crowd, saying, "They are not here to hurt me." She also testified that Trump, in one instance, threw his plate of lunch against the wall in the dining room of the White House after Barr announced publicly there were no substantiated accounts of fraud in the 2020 election. Hutchinson also said that Trump tried to lunge at the steering wheel of his car in order for Secret Service agents to take him to the Capitol, which they didn't because they told him it was unsafe. Meadows and Giuliani allegedly also sought pardons should they be implicated in the events of the day, Hutchinson said.
Sixth Hearing
The penultimate hearing sought to put the blame solely on Trump's shoulders—by insisting that he was the one responsible for bringing the crowd of supporters who ultimately stopped the certification of votes. Liz Cheney (R – Wyoming), vice chair of the select committee, also noted evidence of witness tampering by Trump's allies and said it was being investigated by the DOJ, but refused to comment further. Trump's tweets took center stage, including one that he sent, saying, "Be there, will be wild!," an unsealed tweet provided by the National Archives urging his supporters to "stop the steal," and was supported by protester testimony that said, "We were basically following what he [Trump] said."
"
Be there, will be wild!"
— Former President Donald Trump, now-deleted tweet posted on Dec. 19, 2020 urging supporters to gather in front of the Capitol
Seventh Hearing
The last hearing focused on Trump's inability to be moved to say something after the attack, even when those in his inner circle, such as Fox News hosts (who publicly stood with Trump's claims, but privately admitted his conduct was wrong), his advisers, and his own family, noting that he stayed silent for 187 minutes before sending out a video on Twitter telling his supporters, "We love you" and "Go home, and go home in peace."
"
We love you, but go home and go home in peace."
— Former President Donald Trump, video posted to Twitter 187 minutes after the attack.
By investigating the events of January 6 extensively, it sends to the world a clear message – that this type of attack on democracy will not stand in the United States and, as Attorney General Merrick Garland succinctly put it, "No one is above the law." The committee also seeks to clean our tarnished reputation on the global stage. At home, it remains to be seen whether the committee will be able to sway any voters, crucial for the 2022 midterm elections, and what new information is dug up, evidence that could implicate Trump and his allies in the future, setting the stage for a historic run for president if Trump decides to run in 2024, possibly as multiple investigations – including those surrounding January 6 – put him at the center.
Leave a Comment
About the Contributor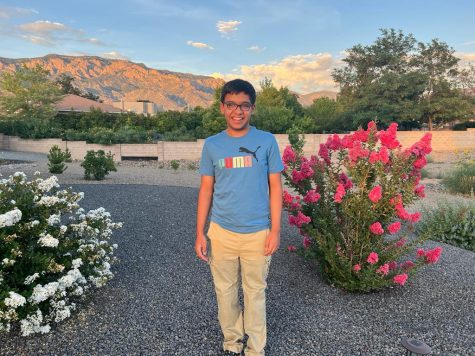 Uzair Hammad '24, Editor in Chief
Uzair Hammad '24 has been a writer and editor for The Advocate for four years, finally ascending to the fabled position of editor-in-chief. In his free...