Best Boba in Burque
A thorough review of the best options for your Boba fix around Albuquerque
Summer is almost here! Warm weather has finally arrived in New Mexico and what's better to drink when you are looking for a cool beverage than boba tea? While boba may not be the first thing you imagine when you think of Albuquerque, there are many delicious places around the city that are worth trying if you are craving something new. I have been tasked with trying boba from nine different places (including Academy's very own Common Grounds Café) over the past few months, and am here to report my findings on the different flavors I tried as well as the overall best boba in Burque. For each location, I ordered a milk tea (generally a black milk tea if they had it) with boba along with one or two specialty flavors recommended by the employees at each stop. Along with the drinks, staff members at Stary Moon and Teasu highly recommended bingsu, a Korean shaved ice dessert, so I made sure to try it at both. I rated each drink out of five stars based on how much I liked it and in comparison to other drinks I tried.

To start off, a little history of boba. The drink originated in Taiwan in the late eighties and has grown popular all over the world, with many boba tea chains now dotted across the United States. Young Asian Americans popularized the drink, but now boba shops are regular hangouts for all American teenagers. Many locations I visited had board games, playing cards, and puzzles to encourage customers to stick around and enjoy their drinks with one another. Boba tea itself consists of a creamy base of black, green, or fruit tea along with chewy tapioca balls at the bottom of the drink. Marked by wide, colorful straws poked into the lid of the cup, boba is a delicious treat for anyone looking for something sweet to sip this summer!
Sweet Cup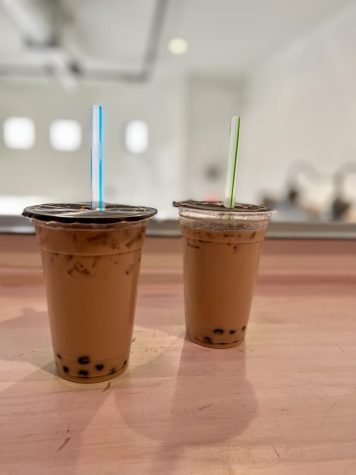 My first stop was Sweet Cup, a little dessert and boba shop off of Wyoming—just seven minutes away from Academy. I ordered their Classic Milk Tea along with the Lavender Milk Tea. Each was $4.75 for their regular 16 oz size.
I found the Classic Milk Tea to be unsettlingly sweet, so much so that I couldn't finish it. It had a slight undertone of its black tea base, but other than that it tasted like pure sugar.  However, the drink was thin and had a light, creamy texture, which I enjoyed. 
The Lavender Milk Tea was significantly better than the original milk tea. It tasted much less sugary and had heavy notes of lavender infused into the drink. I really enjoyed the flavor combination and it, like my other boba tea from Sweet Cup, was light and easy to sip.
The boba from Sweet Cup was rather chewy. It did not seem very fresh and tasted extremely starchy, so while they did give me a generous amount at the bottom of each of my drinks, it did not taste the best.
Windmill Tea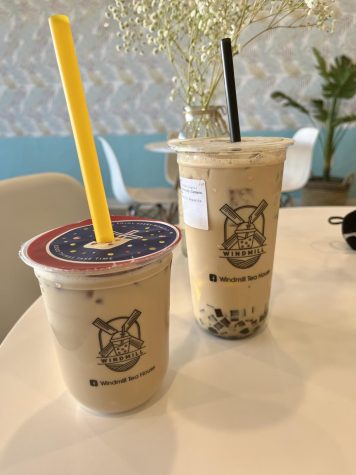 The next place I tried was Windmill Tea House, a boba shop off Montgomery that just opened last October. I ordered their Classic Milk Tea with black tea ($4.25) and three specialty drinks from the location: the Wind-Milk Tea ($6.25), the Iced Purple Ube Latte ($4.75), and the Mango Ice Blended ($5.95). This shop let me choose my preferred sugar level, so I opted for half sugar in all of the drinks. The Classic Milk Tea and Purple Ube Lattes were 16 oz and the Wind-Milk Tea and Mango Ice Blended only came in 24 oz sizes.
The Classic Milk Tea had a nice, creamy texture with strong notes of black tea. It was not too sweet and I appreciated that its sugar level was customizable. I really liked this one; it tasted exactly like a milk tea should, harmoniously blending tea and milk so that the drink is cohesive and tasty.

The Wind-Milk Tea was not for me. This is a boba tea with a jasmine and black tea base mixed with sweetened condensed milk. It has boba, egg pudding, and coffee jelly toppings floating in the liquid. I found the taste, especially the aftertaste, of this drink to be really unpleasant. There was too much going on. It has a plethora of flavors that do not necessarily go together and the combination did not taste particularly good. I am unsure why this flavor is only sold in the larger of the two sizes, but I definitely did not finish it.
Next was the Purple Ube Latte. Ube is a type of purple yam. This is a milk tea flavored with ube powder and ube extract that has boba on the bottom. I did not really enjoy this drink either. This one was less about the cohesivity of flavors and more about the texture. It had a grainy texture from the ube powder used to make it. I really did not like sipping it and stirring only helped slightly before the powder would settle out again. The ube flavor itself was good; it has a tasty mellow vanilla-like flavor, but I did not like the drink's texture.
My final drink at this location was the Mango Ice Blended. This was my favorite by far. It had a thick smoothie-like consistency, and it tasted really good with the chewy boba pearls at the bottom. They use real mango in the drink, so it tasted extremely fresh. Many mango smoothie-type drinks are overcome by banana flavoring, but Windmill uses condensed milk to pull the drink together, so none of the fresh mango is lost. 50% sugar was the perfect sweetness level for me, so I would highly recommend this drink; it was the only one I finished.
The boba from Windmill Tea was absolutely delicious. It was soft, easy to chew, and seemed very fresh. There was a good amount of boba at the bottom of my Classic Milk Tea, Purple Ube Latte, and the Mango Ice Blended, but I wish there had been more in the Wind Milk Tea and less of the coffee jellies. The boba had the perfect squishiness and was superb overall.


Starry Moon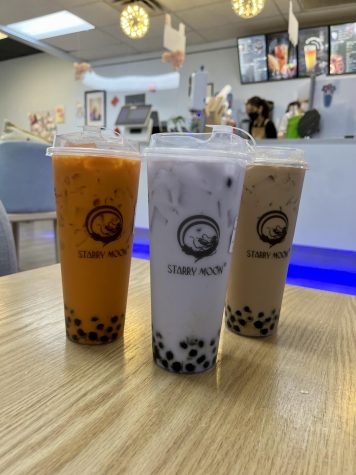 Next was Starry Moon, a boba tea place really close to the Academy off of Paseo. I ordered their House Milk Tea ($5.25), a Thai Tea ($5.25), and a Taro Milk Tea ($5.50) all with boba. Starry Moon, like Windmill, allowed for a choice in sugar level, so I went with half sugar on all of the drinks. Along with these, I got a Bingsu shaved ice ($7.25), which was highly recommended by the staff. There is only one cup size offered here.
The House Milk Tea at Starry Moon was rather bitter. The black tea was really strong and this drink was much less creamy than the previous two milk teas I had tried. I would recommend getting full sugar on this one from this location because for me, it tasted too much like straight black tea. It was missing the rich milky flavor that should be accompanied by undertones of black tea.

The Thai Tea was the next drink I tried. It was a little sweeter than the House Milk Tea and had much more flavor. It was spicier, presenting a very distinct taste of black tea, a plethora of spices such as star anise and crushed cardamom, and milk. The striking orange color made it look as delicious as it tasted. As a whole, it was a really great combination of flavors that I would recommend.
My final drink, the Taro Milk Tea, was my favorite drink from this location. It was made to be quite sweet, so half sugar was the perfect sweetness level for me. It had a delectable coconutty taro flavor and a pretty purple color. It was smooth, creamy, and had cohesive flavoring.
There was something rather peculiar about the boba from Starry Moon because it tasted different in all three drinks. In my first drink, the House Milk Tea, I found the boba to be really chewy and stale. But when I moved on to the Thai Tea and then the Taro Milk Tea, the quality improved and it tasted fresher and softer. It seemed like I was given multiple different batches of boba, which is not ideal. While this seems to be hit or miss, the fresh boba was quite good.
For the bingsu, I ordered the taro flavored option, but it also came in matcha. It had beautiful purple layers of fluffy ice cream-like dessert with sweetened condensed milk drizzled over the top. Strawberries and little popping bobas were sprinkled throughout. This sweet dessert was my favorite item from Starry Moon. It was so delicious, light, and easy to share. The taro flavor was delicious and blended well with the toppings. Originating from South Korea, this take on bingsu is a must-try on a visit to Starry Moon.

Bing Tea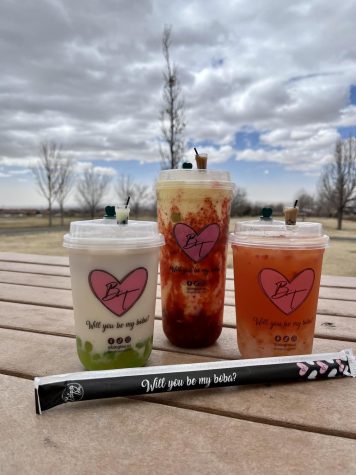 My next stop was Bing Tea, a mobile dessert cafe in Albuquerque. This shop is a little different from all the others because it is constantly moving! When I went, it was at North Domingo Baca Park, but it is important to follow their social media accounts to get their truck schedule, so you know where they will be when you want to stop by. I ordered three drinks from here: the Vintage Assam Milk Tea and the Creamy Mangoñada both with boba, and the Aphrodite with star lychee. The Vintage Assam and Aphrodite were both $4.50 for small sizes and the Creamy Mangoñada only came in a large size and was $5.50.
I absolutely loved the Vintage Assam Milk Tea. While Bing Tea did not let me customize the sweetness level of my drink, this one tasted perfect—it was by no means too sweet. It was creamy, blended really well, and the Assam black tea as a flavor was prevalent and rich. The drink itself was so delicious, and I would definitely order it again.
The Aphrodite was also good. It was a light, fruity tea that is perfect for summer. It had notes of passion fruit and strawberry with fresh bits of strawberry floating throughout the drink. I personally thought it was a bit sweet, but also no different than any other fruit tea. There was nothing that stood out about it, but it was not bad at all.
Unfortunately, my last drink at Bing Tea was not nearly as good as the first two. The Creamy Mangoñada is described on the menu as a mango blended jasmine green tea with tajin, but all I could taste was the tajin. It made the drink incredibly salty and added a savory quality that was not matched by the sweet mango, so it overpowered the whole thing. There was no mango flavor at all and it did not seem to be blended all the way because I could feel small chunks of ice in my mouth when I sipped it. I did not like the flavor, and would not recommend getting this drink.
Bing Tea makes their boba in house every day and when I went, it happened to be St. Patrick's day, so the boba was green. This was really exciting! However, it was supposed to taste citrusy, which it did not. There was absolutely no flavor in this boba, and its consistency was really off.  It was more like a flavorless gummy. It was too sticky and soft, so it got stuck in my mouth when I tried to chew it. While the boba was fresh, it did not taste right and I did not like it.


Sharetea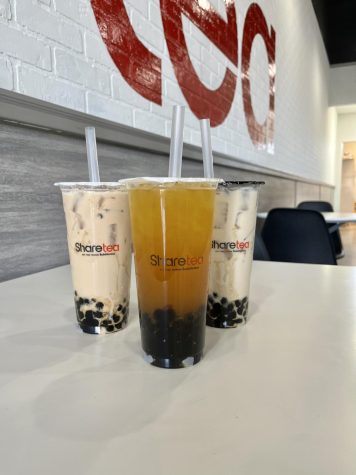 Next up was Sharetea off Montgomery, about ten minutes away from school. Unlike the other places I have been to thus far, Sharetea is a large chain with more than 300 locations worldwide on 4 continents and 13 countries. I ordered their Classic Milk Tea, a Classic Oolong Milk Tea, and a Tropical Fruit Tea. Each drink was $5.00, but the fruit tea did not come with boba, so adding the pearls was an additional $0.75. The sweetness level was customizable for each and I chose 50% sugar for all of them.
The Classic Milk Tea was good, but perhaps a little bitter at half sugar. I would recommend increasing the sugar level to 80% for this particular drink. I liked the notes of black tea; they made it light and fresh, but I do feel it was missing the really creamy element some other milk teas I have tried had. The flavors were all there, but there was certainly a better black milk tea at Windmill.
While the Classic Milk Tea was not the best I have had, I really enjoyed the Oolong Milk Tea. It was sweetened well and the flavors blended together in a creamy, smooth fashion that I liked. I do, however, wish there was even more oolong flavor; I felt the tea was muted just a bit too much and it hid behind the milk. Overall, though, it was a very good drink.
My last drink from Sharetea was the Tropical Fruit Tea. This fruit tea was extremely citrusy. There was such a strong orange flavor that it overpowered any other fruits that were meant to be tasted in the drink. In addition to this, it was much too sweet at 50% sugar, so it tasted like orange juice with a mere hint of fruit tea infused in it. I would not recommend this as a tasty fruit tea option for the summer.
Similarly to Starry Moon, the boba at Sharetea tasted different between the three drinks. In both milk teas, the boba was chewy and slimy and was even more so in the fruit tea, so its boba pearls were almost a pain to eat. The most notable element of the boba from Sharetea was not its flavor, however—it was its volume. Each drink had an extremely large amount of boba pearls—the fruit tea was almost a third boba—and I had so many left over when I had finished the tea. I suppose this is better than not having enough boba, but I feel the amount I was given was excessive, unnecessary, and took away from the drink because each sip provided for a mouthful of boba and just a little liquid.
Teasu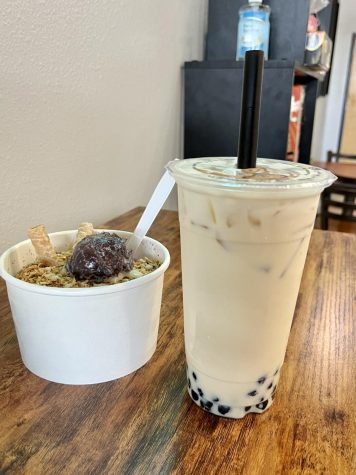 Teasu, a local boba and bingsu shop in the Pavilions at San Mateo shopping center, was my sixth stop. They did not have that many boba tea options, so I only ordered one drink, the Oolong Milk Tea, but their bingsu came highly recommended, so I ordered their Taro Bingsu along with my tea. The milk tea was $4.95 and the bingsu was $9.15.
Unfortunately, the boba tea from Teasu was extremely disappointing. My Oolong Milk Tea was really watery and thin, making the oolong flavor muted and diluted. I felt like it was well-sweetened, but there was just so little flavor. In addition to this, the ice cubes in my drink were small enough to fit through the boba straw, so they would end up in my mouth after I sipped. The flavor was by no means bad, but there was just not enough of it to make the drink worthwhile.
The actual boba from Teasu was also disappointing. This boba was the stalest I have ever had. It was more than just chewy; it was extremely unpleasant and hard to chew. The pearls were smaller than those of anywhere I have been so far, and each one felt like I was eating a little rubber bouncy ball.
The Taro Bingsu featured ice cream-like flakes of taro with coconut shavings, a condensed milk drizzle, and a scoop of red bean paste on the top. The taro flavor was really good and I liked how there were coconut flakes throughout the bowl as I ate more of the bingsu. The condensed milk drizzle added a good pop of sweetness, but I really did not like the scoop of red bean paste on the top. I ordered the taro flavor to provide a more direct comparison to the taro bingsu from Starry Moon, and this one was much more authentic. While I liked the fruit and heavy drizzle of condensed milk on top of Starry Moon's bingsu, Teasu has a much closer match to the shaved ice dessert. If you are looking for real bingsu, Teasu is definitely the place to go.

Hi Boba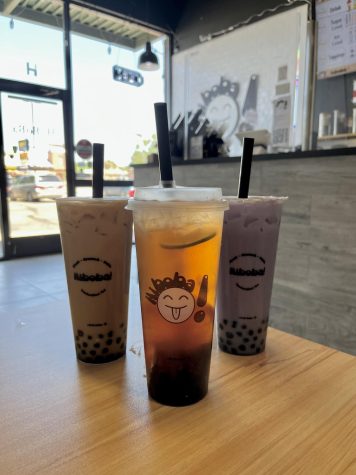 Next on the list was Hi Boba off Menaul right near Coronado Mall. I ordered three drinks here: the Classic Black Milk Tea ($4.75), the Taro Milk Tea ($5.00), and the Peach, Orange, Strawberry Oolong Tea ($5.95). The sugar level was customizable, so I opted for half sugar on all the drinks and got boba pearls in each.
The Classic Black Milk Tea had a really strong black tea flavor. I would recommend upping the sugar level on this one to 80% because it was slightly bitter, but overall there was a good balance of tea to milk, neither overpowered the other; this one was definitely one of the better black milk teas I tried—it was equivalent to the one from Windmill.

The Taro Milk Tea was also good from this boba shop. It was the perfect sweetness level at 50% and it had a good, strong taro flavor throughout. The drink was creamy, but at times had a slightly grainy texture from the taro powder used. It reminded me of the Ube drink from Windmill Teahouse, so it is important to keep stirring this drink to avoid unpleasant sandiness in your sip.
I really enjoyed my final drink, the Peach, Orange, Strawberry Oolong Tea. It was composed of a unique combination of flavors that tasted really good together. There were fresh limes and strawberries floating in the liquid, and half sugar was definitely the right call to let the fruits be the most prominent taste; they were not taken over by excessive sweetness. This is my favorite fruit tea I have tried, and I would wholeheartedly recommend this one as a refreshing drink for summer.
The boba from Hi Boba was chewy and delicious. It did not taste stale or too sticky. Each drink had boba that tasted the same, so overall I would recommend the boba from here—it tasted as typical boba should.


Nana's Tea House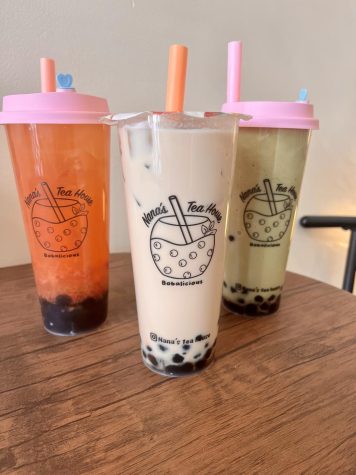 My second to last destination was Nana's Tea House located on Academy eight minutes away from campus. I ordered the Classic Milk Tea with black tea ($6.50), the Matcha Slush ($7.95), and Nana's Tea House Fruit Tea ($7.10). I ordered all three at 50% sweetness and with boba, which was an extra $0.75.
The Classic Milk Tea from Nana's Tea House was my favorite of all the milk teas I have tried. It was the perfect sweetness at half sugar and was incredibly balanced flavor-wise, and I liked how thin it was. I really enjoyed this drink and would absolutely recommend Nana's Tea House for this classic drink.
The Matcha Slush from Nana's Tea House was delicious as well. It had a really strong matcha flavor and was blended in a way that made it taste extremely smooth and not chunky or icy. The chewy boba pearls on the bottom broke up the drink really nicely. This is definitely a good choice if you like the flavor of matcha.
Unfortunately, I found my final drink, Nana's Tea House Fruit Tea, to not be as good as the other two. It was not sweet enough at 50% sugar. I would recommend ordering it at a higher sweetness level because in this one, only the boba was adding a sweet flavor to the drink and it was not particularly sweet—the drink was just bitter. The tea itself was thin and light with fresh strawberries floating in it and it had citrusy notes which made it cohesive and fruity. It was good and would be great for summer like the Aphrodite from Bing Tea. However, both fruit teas tasted very generic; I did not find anything that really stood out about either.
The boba from Nana's Tea House was chewy and was consistent throughout the drinks. It by no means tasted stale or bad, but it also did not stand out in its freshness. It was average tasting and went well with all three drinks. I would consider it comparable to the boba from Hi Boba.


Common Grounds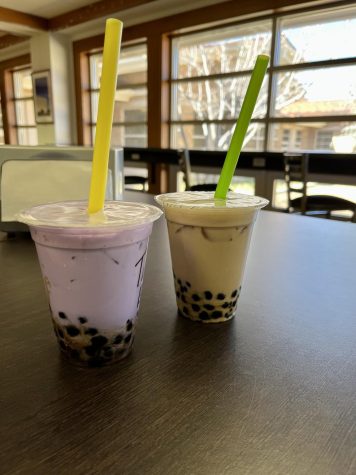 My final stop was the Common Grounds Café. While I know this is not an official boba shop, I thought it would be good to try the boba they had to offer. I ordered the Chai and the Iced Taro both with boba. They do not currently offer milk tea. Each drink was $4.25 for the 12oz size.
The Chai with boba from Common Grounds was quite sweet and really just tasted like cinnamon. There was not a great blend of flavors nor was there much to taste. The drink was really thin and milky. It claimed to contain black tea in it, but I could not taste any at all.
The Iced Taro was also extremely sweet. The taro flavor was not very potent, and it was just a really milky drink. The drink tasted like sweet purple milk; I did not think it was very good.
The boba from Common Grounds was extremely slimy. It was not fresh, and it took a long time to chew. I did not like it, but there was a generous amount at the bottom of my drinks. I would say it was comparable to the boba at Sweet Cup—starchy, but not inedible.

The café is such a tremendous addition to our school, and even though I found the boba to be disappointing compared to the official boba shops around town, Common Grounds is accessible for students to get a quick boba fix along with many other delicacies including scones, burritos, and specialty coffees.
There are so many fantastic boba places in Albuquerque—each one is really unique with a wide range of drinks, so I hope you try one or more of these places over the summer and let me know what you think!
View Comments (5)
About the Contributors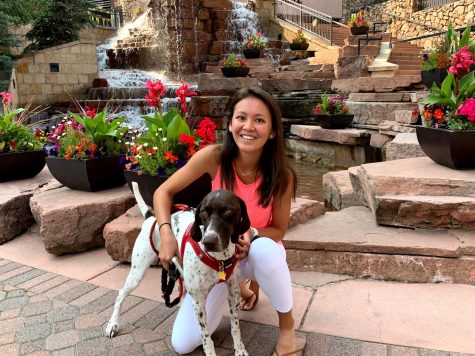 Kaeli Kampschmidt '23, School and Local Editor
Kaeli's love for literature and writing shines through her work as the School and Local Editor. A consistent writer and editor of The Advocate for two...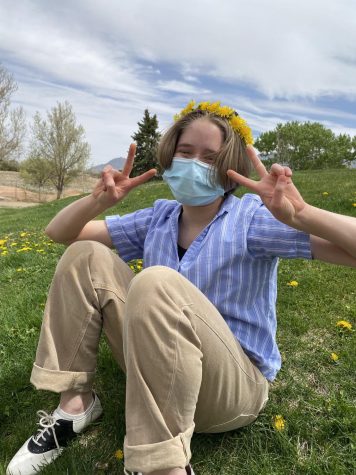 Haley Pedersen '25, Graphics Editor
Haley '25 is the Advocate's Graphic Art Editor. Their overall artist career sprouted at a young age from their various dragon sketches and drawings,...