MMMBeth Delights!
Don't Miss the Last Weekend
This past weekend marked a resounding triumph for the Academy Theater department with the fall play: MMMbeth, the first in-person Academy production since the switch to online performances two years ago. Filled with high energy displays and a wide variety of humor for all ages, this show was a true pleasure to witness.
A spin-off of the classic Shakespeare play (Macbeth), MMMbeth is the perfect blend of high brow and slapstick humor all wrapped up in the theme of a low budget high school production. Written by Allison Williams, the play features a very contemporary feel and draws heavily on modern American culture for references. Do not be dismayed however; while much of the show's comedic elements resonate with younger generations, there are plenty of your favorite Shakespearean characters and moments to enjoy, including my personal favorite exclamation, "You egg!" classically attributed to Murderer 1 played by Martyna Fajfer '23.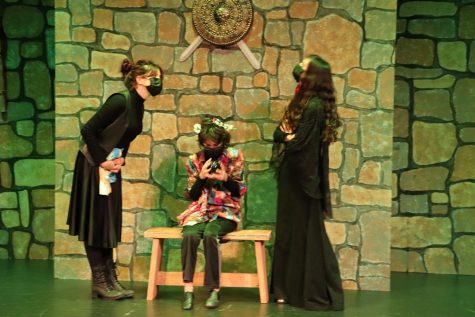 Directed by Academy's own David Sinkus, this play was beautifully brought to life on stage by a talented and diverse group of actors. This year's cast drew from a wide range of grades (from eighth graders all the way to juniors) as well as featuring both veteran actors such as Caroline Lutz '23 and some new faces, including Zara Dolan '24 and Arianna Rosner-Salazar '25, taking their first steps into the spotlight. This is in part due to the department's innovative choice this year to run two separate casts for the two weekends of productions. While the timing of this play in particular may have presented some challenges, including actors having to wear masks during performances as well as rehearsals, the cast and theater department as a whole was able to create a beautifully entertaining performance, full of emotion and hilarity.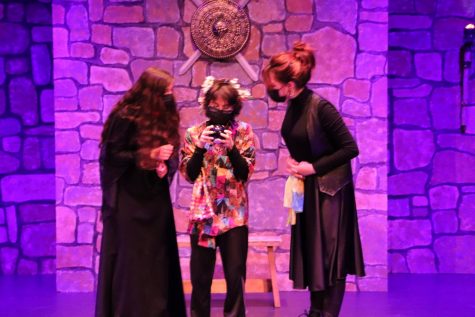 As well as excellent performances by the cast, this show also featured some exceptional visual displays. Stunning light displays are just one of the elements that really brought this show to the next level. Designed by theater department chair Richard Hogle and artfully executed by Nate Shay '24 and the rest of the crew, this shows lighting and audio effects were something to be remembered with everything from flashing lightning to roaring chainsaws. These elements, coupled with intricate, hand painted, sets and meticulously accurate costumes brought this production to a new and interesting level for the Academy Theater.
Overall, this year's fall play MMMbeth was a joy to witness and stands as a clear testament to the passion and dedication of both the actors and stage technicians alike that helped to make it a reality after such a long break. Going into the winter semester, I am anxious to see what the theater is planning next for the fast approaching One-Acts.
Leave a Comment