Met Gala 2021 Review
Celebrities and fashion designers from all over the world descended on New York City this past Monday night to close out New York Fashion week with the long awaited return of the Met Gala. After having been postponed since last year, fans and stars alike were happy to have one of the year's biggest fashion events return. This year's Met is one of two with the first having been held on September 13th and the next one still to come. With this year's theme, "In America: A Lexicon of Fashion," the curators hoped to showcase the future of American fashion by incorporating both younger stars and younger designers into the display. In fact this year's list of co-chairs was also almost exclusively made up of younger talent, including: Timothee Chalamet, Billie Eilish, tennis champion Naomi Osaka, and revolutionary poet and activist Amanda Gorman.
For those who don't know, the Met Gala is an exclusive charity event held each year by the Metropolitan Museum of Art in New York City, in order to fund the museum's Costume Institute. The event typically consists of a red carpet walk and photoshoot before a luxurious dinner within the museum's event hall. Beginning in 1948 it has grown to become one of the world's most exclusive fashion events raising a record of $12 million per event, and that number is expected to grow after the long-time editor-in-chief of Vogue magazine: Anna Wintour, assumed the position of Chairman. At $35,000 a ticket the red carpet is out of reach for most Academy students, but never fear! We're here to recap the night's best and most eye-catching looks!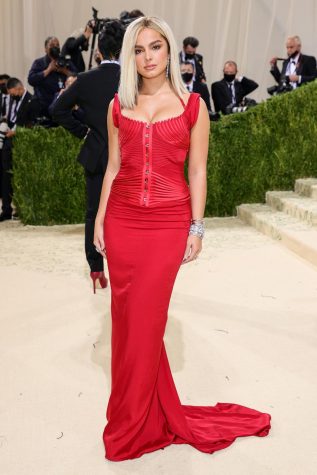 This year's showcase of younger talent showed a wide variety of styles and backgrounds, some entirely new to the Met. New first time guests Addison Rae and Dixie D'amelio kept things simple with Addison flaunting a bright red vintage 2003 design Tom Ford x Gucci gown that some fans found highly reminiscent of Kourtney Kardashians 2019 Christmas dress. Dixie sported a black satin Valentino minidress and a dramatic black feathered hat. Though many fans were disappointed by Dixie and Addison's underwhelming attire, no one was let down when Billie Eilish arrived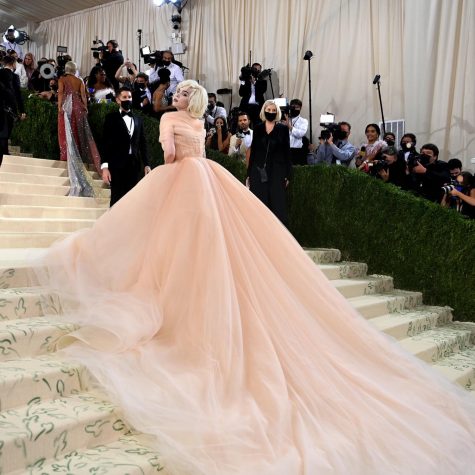 in a truly massive blush ball gown by Oscar de La Renta. In an interview with Ke Ke Palmer who, along with Ilanna Glazer hosted Vogues' live stream event, Billie describes how her look was inspired by The Holiday Barbie from her childhood and how she had pitched her idea with a "belle of the ball" effect in mind. Despite Billie's dazzling effect some of the night's best looks were still to come including Lil Nas X. Undoubtedly one of the most unusual displays of the night, Nas arrived in a large dramatic gold Versace cape with intricate beading which was removed to reveal an amazing full suit of metal, golden armor and in another incredible turn of events the armor was removed to reveal Nas' final outfit of the night: a beautiful gold and black, intricately patterned, rhinestoned, jumpsuit. Finally, Tessa Thompson's appearance is well worth mentioning. Dressed in a stunning crimson and black Iris Van Herpen, laser cut, short dress that seemed almost alive in its elegant beauty.
Despite such new and remarkable talent both in guests and designs, some more experienced stars and returning celebrities did not fail to dazzle us. Undoubtedly one of the night's most notable looks was supermodel Iman's incredible Harris Reed outfit. Made from concentric rings of long thin natural fibers painted gold at the base, which were separated to reveal a beautiful metallic gold pant suit style layer underneath. This combined with her enormous round headpiece, made of the same material, created a truly awe inspiring presence. In speaking of unusual designs, one simply must mention the incredible outfit worn by Canadian musical artist Grimes.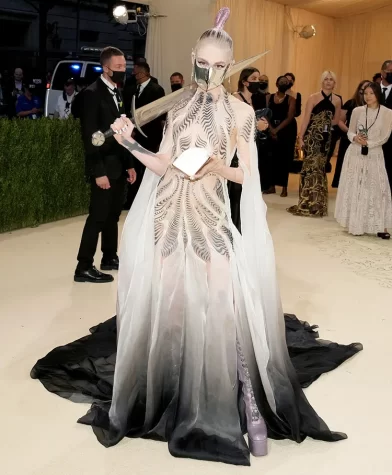 Surprisingly her incredible Iris Van Herpen original dress inspired by the upcoming Dune movie wasn't the most interesting part of her attire as she chose to carry an actual sword as an accessory to the event! The sword was made by a Brooklyn art collective known as MSCHF out of a melted down Colt AR-15A3 automatic rifle. Altogether her message and her outfit sent a shock through much of the fashion community. Finally, a surprising number of this year's looks featured a heavy use of highly intricate beadwork, with both Simone Biles and Vogue's own Precious Lee boasting intricately beaded designs weighing over 80lbs. In an on site interview Lee described how the "zoot suit" style piece had required the help of four people to put on!
Overall the return of the Met Gala this past Monday was a huge and long awaited success, and with so many amazing and inspiring designs, I encourage you to explore all the night's looks on Vogue's website at https://www.vogue.com/article/met-gala-2021-red-carpet-live-blog, and make sure to stay tuned to catch round two of one of fashion's greatest events of the year in May to experience all the magic and intrigue for yourself!