Academy Students Compete for All-State Music Ensembles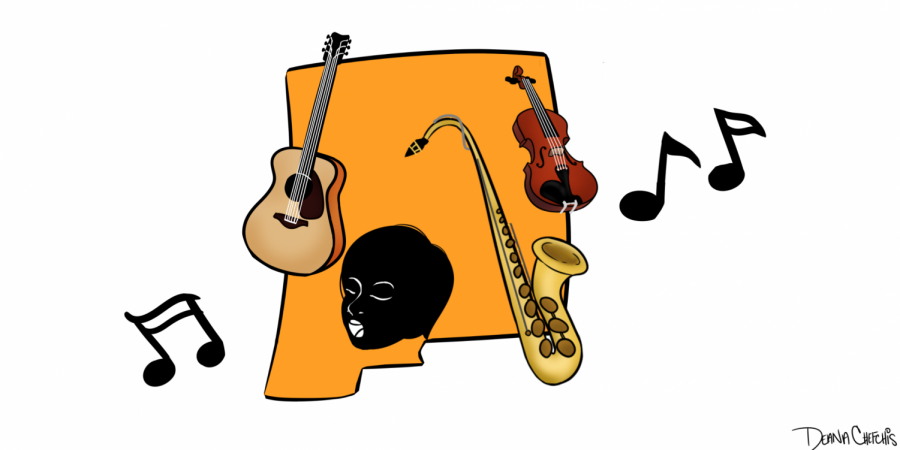 Ashley Tong, '23
November 26, 2019
For music students fall means, among other things, all-state ensemble tryouts. As usual, Academy students were quite successful. Here is the round-up for each musical discipline.
Guitar: The auditions for High School All-State Guitar are extremely competitive as the level of high school guitarists around the state is increasing every year. The audition process includes a solo etude, a few scales, and a piece for the guitarists to sight-read. It doesn't seem like a lot, but there's a catch. These auditions are blind auditions, which means the judges can only rely on what they hear. This means that the stakes are higher as judges take in rhythmic and note accuracy, sound quality and projection, and expressive quality. As hard as it is to pass these auditions, Albuquerque Academy had several of our own students make it High School All-State Guitar. The students who made the cut for this year's All-State guitar are John Dominguez-Trujillo '21, Anthony Ha '22, Oliver Kumar '22, Ashley Melendres '21, and Danny Ross '21. Of particular note is Ashley Melendres '21, who in addition to making all-state was ranked number one out of over 140 auditioners. She was named to the coveted spot of Concert Master of the 72 member All-State ensemble; "I play a lot of guitar through various ensembles both at Academy and outside of it, so it was really rewarding for me to be a concert master.   I put in a lot of hours and work hard, so being selected as Concert Master was really exciting. I was not expecting to be Concert Master, so when my mom called me to tell me I had made it, I was super excited. I would definitely recommend auditioning for All-State.  It is great to perform in such a big ensemble and the music is also really fun to play."  This year's guitarists have certainly proved themselves to be New Mexico's finest and we are all very proud of their hard work.
Chorus: The auditions for High School All-State Chorus are slightly different than the instrumental auditions, but no less competitive. Performers must prepare a solo, sing a part in a choral piece, and lastly, sight-read. Hundreds of students in each choral ensembles around New Mexico audition for 30 spots per section. This year, 10 Albuquerque Academy students made All-State Chorus. For the Mixed Choir in Soprano 1, the students who were successful were Analise Granados '21 and Leah Jones '20, while in Soprano 2, Laurie Fleenor '21 came out successful. Also in Mixed Choir, Alto 2 were Nina Sandman '22 and for Bass 1 was Ramses Tanedo '21. In Treble Choir for Soprano 1 were Audrey Ng '20, Evelyn Nguyen '21, and Camille Vigil '20. Also in Treble Choir but for the section of Soprano 2 were Gretchen Eberhardt '21 and Madeline Ng '22. For so many of our students to make All-State Chorus is such a big accomplishment, and everyone can see that we have some very talented students at Albuquerque Academy.
String Orchestra: The auditions for High-School All-State String Orchestra includes etudes, scales, and sight-reading. The students selected for the Concert Orchestra include Johannes Bauer '21, Grace Bolton '23, and Audrey Ng '20. In Symphony Orchestra in the Violin 1 section – the top section in the state – are Sarah Lee '22, Sofia Taylor '21, and Sarah Wang '21. Finally, selected for the Alternate Orchestra is Lily Johnson '21. Audrey Ng '20 also made both all-state string orchestra and chorus; "I prepared just by practising, and I was a little bit nervous walking in because you never know what's going to happen. I felt good, and I'm always excited to see all of my friends that I don't normally get to see unless we're playing cello together. I would recommend auditioning to everyone! It's always a lot of fun and you get to meet new people every year that have the same interests as you, and it's a break from school."
Band: For All-State Band, we have 7 amazing musicians who were chosen. In Symphonic Orchestra is Emma McLaughlin '22, who was also named number two piccolo in the state. In Symphonic Band is Bella Moretti '20. The students selected for Concert Band include Alex Muller '21, Marly Fisher '23, and Gina Kennedy '22. Finally, in Jazz Band, Alternate is Diego Moore '21 and for Jazz Band II is Antonio Marrujo '21 who was named number two piano in the state; "For anyone who wants to audition, I would say that it's not as scary as you think. Going into the audition process, I was so stressed, but as long as you come prepared, you'll do amazing. In order to be prepared to the best if you're ability, you need to practice consistently. Playing the pieces here and there won't improve your abilities, but playing at least once a day will."
These amazing musicians have all been working extremely hard. A lot of them have practised for hours upon hours for their selected etudes, scales, and sight reading. They've had lots of lessons with their private teachers, and had help from their own directors at Academy. They've done mock auditions with their families and friends, and prepared every single day. Fortunately, all of their hard work paid off in the end and they finally achieved what they have been working towards for the past few months. We are all very proud of all of these hard-working students and if you see any of these students, be sure to congratulate them!