Taste the Rainbow at Rainbow Thai Ice Cream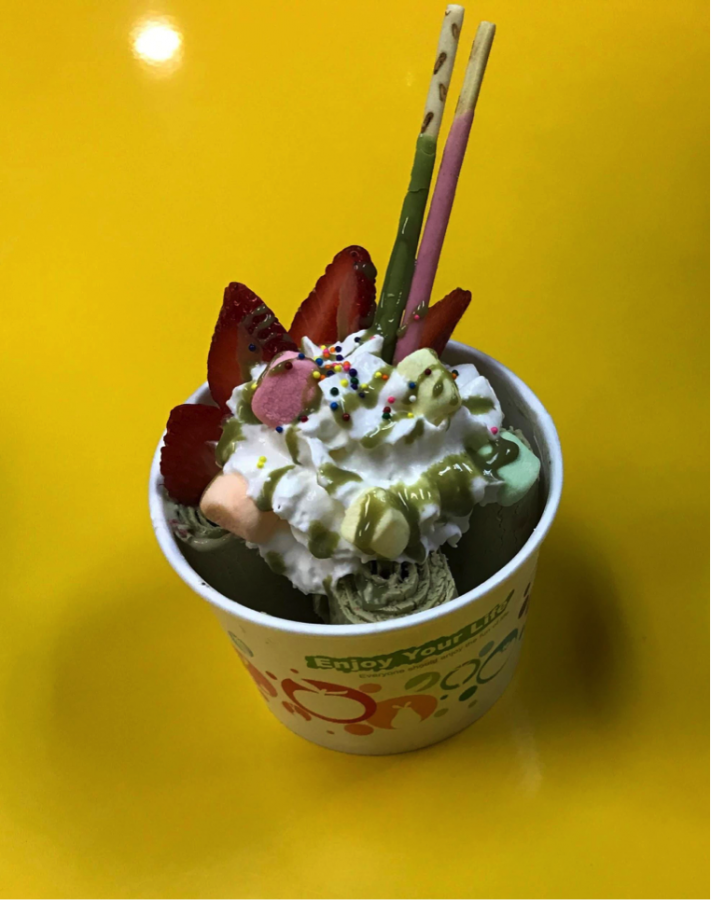 August Escandon, Writer
January 2, 2019
Rolled ice cream: it's delicious, sensational, and classy. Originating in Southeast Asia, rolled ice cream was originally called "stir-fry ice cream" or "Thai rolled ice cream." To prepare it, milk, flavorings, and fruits are mashed into a paste on a cold plate, then frozen and rolled into cylinders of deliciousness.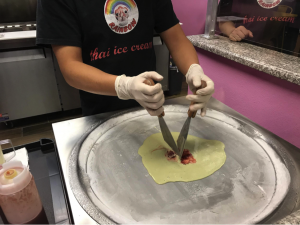 Rainbow Thai Ice Cream had its grand opening earlier this year, bringing genuine Thai rolled ice cream to Albuquerque for the first time for all Burquenos to enjoy. Located on Menaul and San Mateo, the street view of Rainbow Thai Ice Cream leaves much to be desired. However, upon entering, the brightly colored walls, counters, and chairs create an atmosphere of modernity and cleanliness. The menu provides great pictures and descriptions of the wide variety of flavors and toppings offered. There is a plethora of ice cream flavors including many  traditional American ice cream flavors, along with more unique, definitively Southeastern Asian flavors such as Green Tea, walnut, and Thai Tea. Rainbow Thai offers a variety of toppings, including but not limited to the fruits and chocolates found in all ice cream shops, as well as rarer delicacies such as Pocky, mochi, and, of course, gobi poppers. The menu was highly curated so that the flavors and toppings were all strongly synergetic.
When I placed my order— the green strawberry ice cream— the chef began by pouring a mixture of milk and green tea matcha powder onto a cold metallic plate, an arm's width wide. As it began to freeze, he rapidly chopped and stirred the mixture, then crushed and added whole berries. When the mixture was completely frozen, he spread it flat on the cold plate, then rolled the paste into cylinders and placed them neatly in a cup. Finally, the chef sprayed a generous mountain of whipped cream and topped it with sliced strawberries, mochi, and pocky. I proceeded to sit down with my friends, who helped me work through the large serving of ice cream.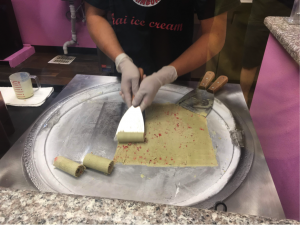 From our yellow table we took in the whole sight of the locale. Pink walls and simple yet tasteful artwork evoked an easygoing vibe and facilitate friendly conversation. During the pauses in conversation, we noticed the music, covers of pop songs, and the staff chatting with each other and occasionally smiling over at us.
The whole experience of Rainbow Thai Ice Cream was excellent. Watching the chefs prepare the ice cream was entertaining, the ice cream itself was scrumptious, and the restaurant itself was well decorated. While the offerings were not particularly cheap at about seven dollars each, they were large enough to share with a friend. I recommend bringing friends; and, as Rainbow Thai Ice Cream was a lovely place to relax, I will certainly be there again.