The Paleta Bar Brings Latin America to ABQ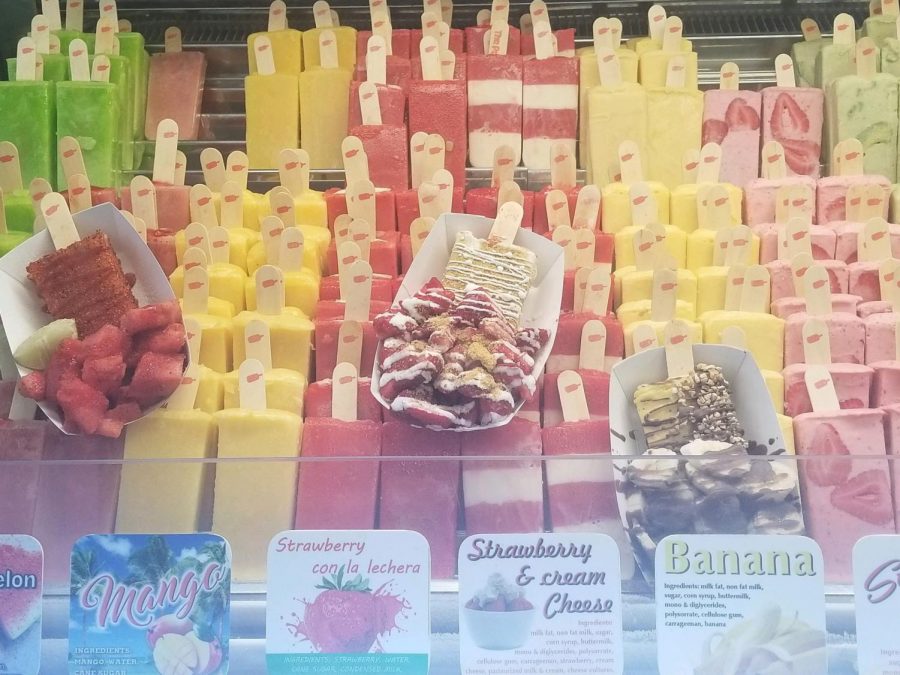 Carlos Dominguez, Writer
October 19, 2018
Located just a few minutes from ABQ Uptown is The Paleta Bar, a small paleta shop tucked into a strip mall. Paletas are similar to popsicles, but the former are typically made from pureed, fresh ingredients, while the latter are made from water, sugar, and dyes.  Although The Paleta Bar shop primarily sells paletas, it also sells other popular Latin-American snacks such as elotes (corn mixed with butter and cheese served in a cup), aguas frescas (water blended with various ingredients, such as pineapple or watermelon), and Dorinachos (various toppings such as cheese and beans put into a bag of Doritos cut along one of the long edges in addition to the chips). Currently, The Paleta Bar has 3 locations, all in Albuquerque. The location I visited at San Pedro and Uptown Boulevard was the closest to the Academy.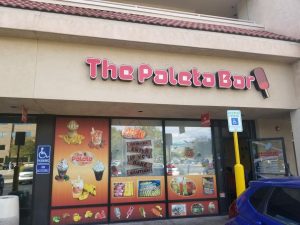 As I entered through the front door, I was immediately greeted by friendly staff. The shop itself had a minimalist atmosphere, with little color to be seen on the walls and not much empty space. In front of me was an array of paletas in flavors such as coffee, lime, strawberry, and vanilla (the full selection of flavors can be seen on the menu available online). With so many flavors available, I decided to select the ones that I would usually pick: mango and Oreo. After placing each paleta into a small food tray, the staff asked me if I wanted to have either paleta dipped in chocolate. At the Paleta Bar, paletas can be left plain, half dipped, or fully dipped in white, dark, or milk chocolate. I decided to have my Oreo paleta half dipped in milk chocolate and my mango paleta left plain. If your paleta is dipped, you can choose to also have toppings added to it, such as almonds, M&Ms, and coconut shavings. I chose to add Oreo cookie powder to mine. Additionally, I ordered a medium pineapple-orange agua fresca. Everything was ready within a few minutes after I entered.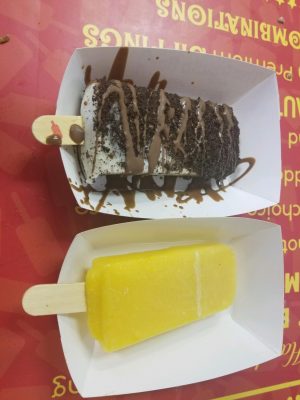 The paletas tasted just like the paletas that I had eaten in Mexico. Their flavor was unlike most popsicles that I had ever tasted in the United States, as American popsicles tend to have a less vibrant flavor due to their artificial ingredients. I was curious about how the paleta would be different when dipped and given a topping, and it turned out to be a good combination of flavors and textures, balancing the smoothness of the paleta with the slight roughness of Oreo crumbs. It should be noted, however, that having your paleta dipped comes with an additional charge of $1.50-$2.00, which can lead to a single popsicle going from the base charge of $2.25 to over $4. After devouring the paletas, I tried the agua fresca. Sadly, while the agua fresca was not bad, it was not as good as I was expecting it to be based on my experience with the paletas. Overall, I would say that The Paleta Bar is a good choice for anyone who loves paletas or is looking for a new after-school treat.