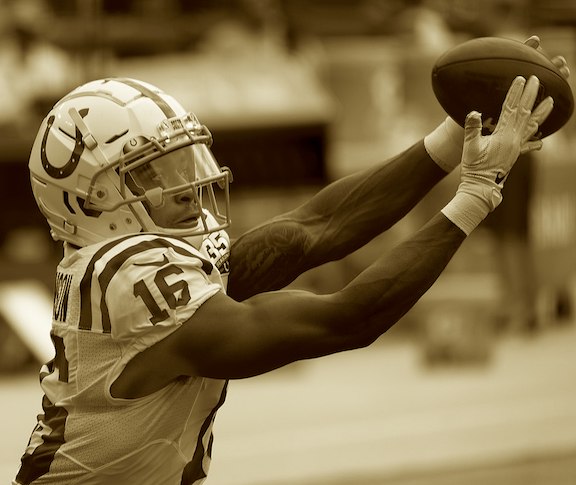 Keith Allison from Hanover, MD, USA / CC BY-SA (https://creativecommons.org/licenses/by-sa/2.0)
Wide Receivers
Jaylen Waddle: Waddle has become the focal point of the Dolphins offense, leading them to a victory over the Panthers this week. Catching nine out of ten targets for 137 yards and a touchdown in the Dolphins blowout win. Waddle finished the game with a season-high 28.7 points. Heading into a solid matchup with the Giants next week, look for the rookie to have another strong performance. 
Tee Higgins: As the Steelers began adjusting their defense to limit the threat of Ja'Marr Chase, Higgins took advantage, posting his best game of the season. Higgins caught six out of eight passes for 114 yards and a touchdown in the Bengals blowout victory. However, Higgins is not a viable fantasy option in an offense dominated by Chase and Joe Mixon. 
Adam Thielen: Although the Vikings failed to come out with the victory, Thielen had his second straight game with more than 20 points. Thielen failed to reach 100 yards, only posting 62, but caught five passes for two touchdowns, finishing the game with 23.2 points. Thielen has a great matchup against the Lions next week and is a must-start.
Kendrick Bourne: Bourne has been irrelevant in fantasy football due to his inconsistency. However, in an offense that is unfriendly to wide receivers, Bourne had a great game against the Titans. Bourne caught five out of six targets for 61 yards and two touchdowns to finish the game with a total of 23.1 points. The Patriots face off against a tough Bills defense next week making him a risky option at receiver.
Hunter Renfrow: Renfrow has emerged as the Raiders top receiver this season, and posted his best game of the year against the Cowboys. Renfrow had 134 yards off of eight receptions to finish the game with 21.6 points. The early exit of Darren Waller led to an increase in targets for Renfrow who was able to dominate the Cowboys secondary. If Waller continues to miss time Renfrow is a solid WR2.
Deebo Samuel: Although Samuel only had one reception for 12 yards this week, he was able to rush for 66 yards and two touchdowns in the 49ers victory. While Samuel was able to finish the game with 20.8 points, he left the game with a groin injury that is expected to keep him out for one to two weeks. Look for Brandon Aiyuk to receive more opportunities in Samuel's absence.