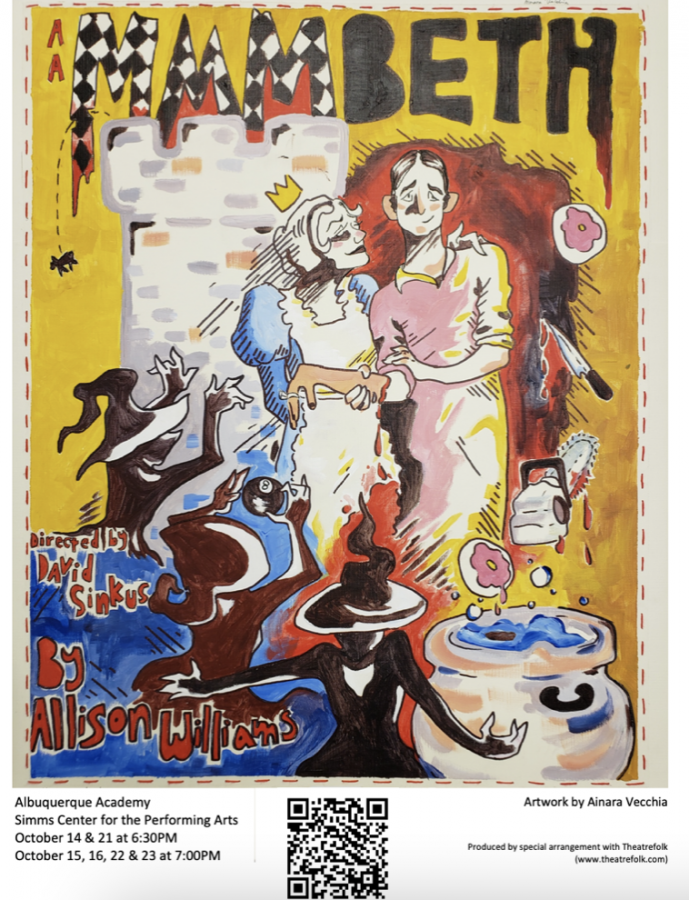 Thespians and theater enthusiasts alike at Academy should be excited for the return of a live in-person performance this week! After nearly two years of suspended and online performances, the Albuquerque Academy theater department has worked hard to bring actors and audience members back to the theater with an all-new fall production of MMMbeth. A spinoff of the classic Shakespearean play, Macbeth, this production combines satirical interpretations of your favorite characters with hilarious dialogue and a high energy performance style. With an almost entirely female cast, this is sure to be a show to remember.
Set to open this Thursday, October 14, MMMbeth takes on the theme of a ragtag high school play, with actors fighting for dramatic exits, comedic mix-ups and even some audience participation. With jokes for all ages, high and low brow, this show is sure to keep you on the edge of your seat: filled with murder, betrayal, undead spirits, and … donuts?
While sampling from a wide range of grades, this year's cast drew a majority of female actors to the stage, with a mix of veteran actresses as well as first-time performers. With showings split over two weekends, many of the actors chose to only work one set of showings, to allow for more actors, creating nearly two independent casts one of which boasts all-female actors. With such diverse roles and given such a flexible and high-energy play it will be exciting to see our talented actors rise to the occasion and, hopefully, shed new light on their characters.
As is to be expected the school's first in-person production since the shutdown doesn't come without some drawbacks. Actors and audiences alike will be required to wear masks even during the showing and, as usual, audience members will be seated with one chair between each guest. However, our theater cast and crews have proven themselves up to the challenge time and time again these past two years, and this show promises to be no different. Exceptional lighting, brilliant costumes, and inspiring performances are all on the menu for this Thursday night and with limited spaces available, make sure to reserve your ticket early and I'll see you at the show! Tune in next week for a full review of the play.