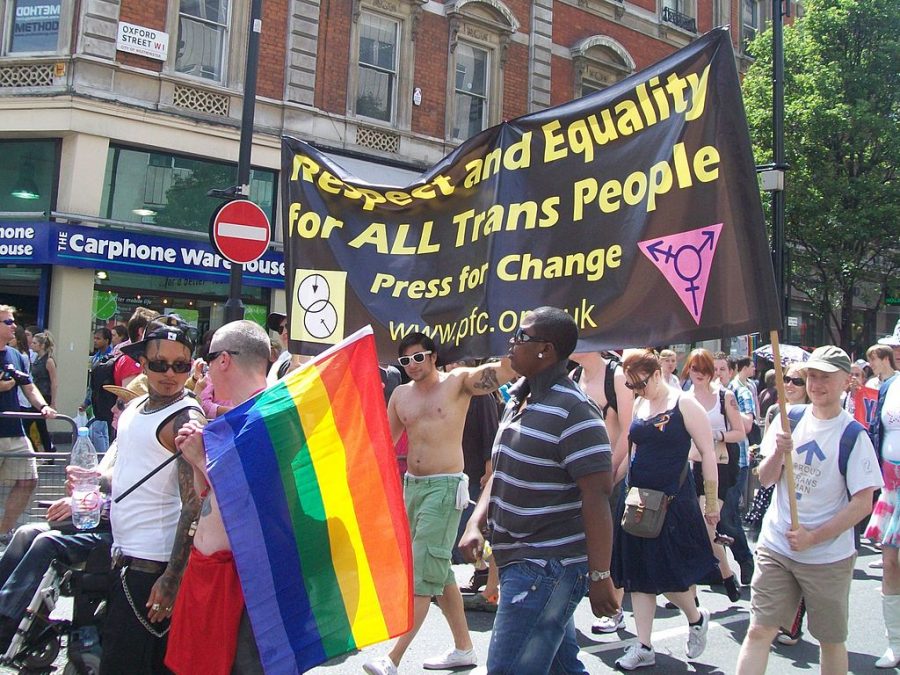 AnemoneProjectors, CC BY-SA 2.0 , via Wikimedia Commons
2021 has been an unprecedented year already, full of pandemic-fever, a vaccination-frenzy, and backlash against the 2020 election results. This year alone, there have already been 117 anti-transgender bills introduced to state legislatures. 58 of these bills involve a bathroom/locker room ban as well as a youth sports ban. 29 of these bills are working to reduce or ban medical treatment for trans people. If these bills pass, it could lead to a mental health emergency within the trans-community and an increase in transphobia and violence.
The anti-transgender bills which greatly reduce the ability for trans-people to receive life-saving medical treatment have been introduced in 20 states. The ban has already been signed into law in Arkansas, the only state to pass the bill so far. These medical treatments are life-saving because they have been scientifically proven to reduce depression and suicide rates among trans-individuals. Examples of said treatment include puberty blockers, hormone replacement therapy, and gender-affirming surgeries which help to combat gender dysphoria (when one's gender identity does not align with the biological sex they were assigned at birth). Ultimately these bills interfere with the patient-doctor relationship and deny the patients their rightful healthcare.
The other bills, prohibiting trans athletes from participating in high school sports, have been introduced in 31 states, including New Mexico. Arkansas, Mississippi, and Tennessee are the only three states that have signed this specific bill into law.
In New Mexico, this bill is specifically trying to ban trans-girls from participating in women's sports. The central argument against allowing trans girls to compete has to do with the idea that they will have a competitive advantage. Supporters of trans athletes argue that this is incorrect. The truth however is more complicated than just a simple 'right' or 'wrong'. The supporters of trans athletes additionally argue that the right amount of hormonal therapy leads to a reduction in muscle mass. The opposing argument questions if these athletes are losing enough muscle mass to make them competitively equivalent to girls. It is also important to understand that if an athlete is a superstar before their transition, they will most likely be a superstar after their transition as well. Overall hormonal treatments and their results are unique and vary from person to person.
These bills have received major backlash from LGBTQ groups across the country. Additionally, over 400 major companies including Tesla, Pfizer, Delta Airlines, and Amazon support civil rights legislation for LBTQ people going to Congress. Another statement by HRC says, "Legislation promoting discrimination directly affects our businesses, whether or not it occurs in the workplace. As we make complex decisions about where to invest and grow, these issues can influence our decisions." This statement, signed by just over 85 companies is essentially threatening the states and their economies if they choose to pass these anti-transgender bills.
Some of you may be asking, "What is going to happen with these bills now?" Many states have struck down these bills at the committee stage. Seeing these bills making their way towards becoming laws may still introduce a huge toll on the transgender community. These anti-trans bills are very harmful and demoralizing to the trans community. If passed, there will be an increase in self-harm, suicide, depression, and anxiety among the trans-community and trans minors. These bills could also increase transphobia and violence against trans-people in the United States.
The transgender community needs your support. You can help by talking to friends and family about these issues, spreading awareness about these dangerous and unjust bills, and even signing petitions to prohibit the passing of these bills. If everyone comes together to help put an end to the progress of these bills, the world will be a safer and more accepting place for everyone.
Infographic by Taya Demianova '23