Welcome to 10/12 English Department: David Gray '98
Welcome to the 10/12 division, David Gray! Gray is an alum of Albuquerque Academy, class of 1998, who is currently teaching 11th grade English. He has been a full-time teacher for 5 years. He has had some interesting jobs in his life including, working for a chess store in New York City, for a film distribution company, in the affordable housing field, and for an environmental non-profit group in Albuquerque.He was born in Virginia and later lived in Seattle before moving out to Albuquerque, stating he loves the skies, food, and smell in the air before the rain.Gray states, "It's been quite an experience–going back to the Academy and coming back to my memories of all these buildings from when I was a student there, but also going into them when they're mostly empty, or empty of anyone except faculty. It's been a little bit weird, but it's also been great. I really loved getting to know the students over Zoom. And I had a great time with my first two classes." When he was a student at AA one of his favorite experiences was the 9th grade backpacking trip. Gray's father also taught at Albuquerque Academy, making him an even tighter knit community member. Like most of the student body, Gray also states that he loves the munch pudding from the dining hall.
When asked what he would teach, if not English, Gray explained that he would teach a class in film studies since a lot of his background is in that field. He taught film studies in the past at university level and loved it.
Like a typical English teacher, Gray loves reading. His other hobbies include being an avid baseball fan, watching movies, hiking, and hanging out with his kids, and eight year-old Felix, and three year- old Willa.
He is a great addition back to the Albuquerque Academy family.
Leave a Comment
About the Contributor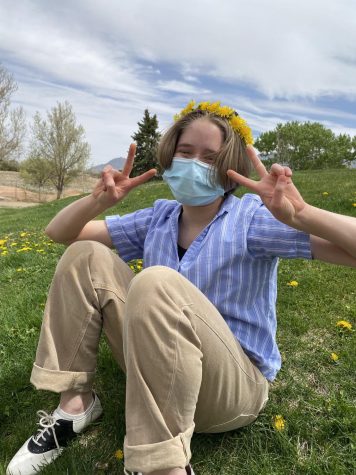 Haley Pedersen '25, Graphics Editor
Haley '25 is the Advocate's Graphic Art Editor. Their overall artist career sprouted at a young age from their various dragon sketches and drawings,...