Incredible Mural Art at the National Hispanic Cultural Center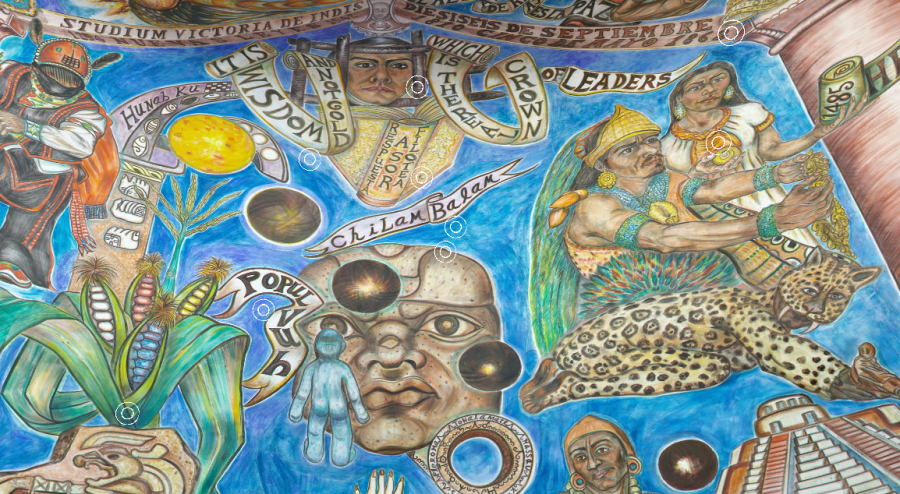 New Mexico is home to a deep and rich culture, especially that of its Hispanic and Native American residents. Artist Federico Vigil's fresco, Mundos de Mestizaje, installed at the National Hispanic Cultural Center, depicts this culture.
I spoke with Mark Mondragon, a volunteer at the exhibit, who told me everything about this art piece. It is the largest fresco in the United States, and is one which Federico sought to to express his mestizaje heritage through. Mestizaje means "mixed racially," and is commonly used for talking about the mixture of Spanish and Native American ethnicities. Federico used the term "mestizaje" to describe the diverse culture in Spain before and after the discovery of the New World. This piece captures "the prehistory all the way to the recent history of hispanic culture from Spain to New Mexico," Mondragon said.
Upon entering the exhibit, I was amazed at how detailed the fresco piece was. When researching a bit on the exhibit, I took a look at the virtual reality of the fresco piece (find the link below), though going to see the exhibit in person was a better experience. I felt as if I had entered a spanish cathedral, filled with Hispanic and Native American culture. Each painting tells of an important aspect of these diverse cultures. For instance, there are four pillars which have four different depictions of the same saint which is there to show the diversities in religion. The attention to detail makes you admire Federico's work. According to Mondragon, the whole piece took Federico a very long time, as he had to continuously wait until each layer of plaster was finished before adding another layer of plaster, which took 10-12 hours to dry. But it was sure worth the wait because the piece looks absolutely stunning, and it really accomplishes Federico's intentions.
I encourage everyone to go see the fresco for themself because it's truly a hidden gem in our city. I also encourage you to talk to Mark, if he's there. He would gladly explain to you the story of the piece and its artist. This incredible exhibit is currently open every weekend from 12:00-5:00 p.m at the NHCC, and you won't leave the exhibit without feeling immersed in hispanic culture. However, if you can't find the time, I highly encourage you to check out this link to the virtual reality tour, which is best compatible with Chrome, Firefox, and Safari:
http://mundos.nationalhispaniccenter.org/torreon_interactive/