Icicles: A Frosty Summer Treat
Hang on for a minute...we're trying to find some more stories you might like.
With the end of school rapidly approaching, summer is in the air! And, if you're in the mood for something sweet, Icicles Handcrafted Ice Cream Rolls serves up the ultimate dessert experience.
The rolled ice cream franchise first opened in California in 2016, inspired by the Thai street cart vendors who popularized the frozen treat. Three years later, Icicles now boasts 10 store locations, with nine concentrated in the Bay Area. Luckily for us in New Mexico, an outlier Albuquerque location recently opened in the Northeast Heights.
Icicles doesn't simply make ice cream—rather, they perform it. The true magic of eating there lies in watching the ice cream barista pour, fold, mold, scrape, smooth, and roll your dessert into existence. After carefully selecting from a menu of 20 unique flavors and placing your order, the barista calls you up to stand in front of a tall glass window and witness the creation of your customized sweet treat as it's whipped into shape before your eyes.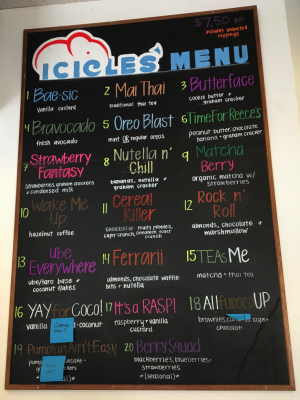 Each Icicles concoction begins with a liquid vanilla custard base, which is poured onto a chilled metal surface and manipulated into delicate frozen furls. To start, the custard is mixed with specific ingredients to give your ice cream its flavor. The "Strawberry Fantasy," for example, contains a pile of strawberries, graham crackers, and condensed milk. The barista drizzles the cream over the finely chopped toppings on the same surface. Next, the thickened ice cream and goodies are combined together in a display of flashing metal tools. I found the following step, the spreading of the ice cream,  to be the most mesmerizing part of the process. The ice cream barista slathers the ice cream across the metallic surface in a thin layer and quickly shapes it into a rectangle with criss-cross strokes. For the finale, the sweet sheet is sliced and rolled into perfect cylinders, carefully placed into your bowl to resemble a rose of culinary happiness. 
Faced with so many options, I ordered three of the most popular flavors: Berry Squad (seasonal fruits), Nutella 'n' Chill (banana, Nutella, and graham cracker), and Time for Reese's (take a guess). Other customer favorites include the Bravocado (avocado), Oreo Blast (mint Oreo cookies), and Mai Thai (made with an ice tea custard base). Icicles also serves dairy-free sorbet options. Customers are entitled to as many free toppings as they like, including fresh fruit, various chocolate confections, and even flambéed marshmallow.
While Icicles certainly delivers an entertaining and tasty experience, it may not be your go-to for a casual sugar fix. The standard-issue serving of seven ice cream rolls costs $7.50, pricier than your average ice cream cone. Additionally, a trip to Icicles can be time-consuming, as it's often very crowded—Friday and Saturday evenings usually come with a line out the door. As each ice cream takes around four minutes to craft, be prepared to wait up to 45 minutes on a busy night. (My advice is to go in the afternoon.) But, whatever you do, don't miss out on the refreshing novelty of Icicles, because you definitely need some ice cream to start your summer right.
Enjoy Icicles Handcrafted Ice Cream Rolls at 5809 Juan Tabo Blvd NE. Information about catering requests for events and parties can be found here, or learn more on their website.